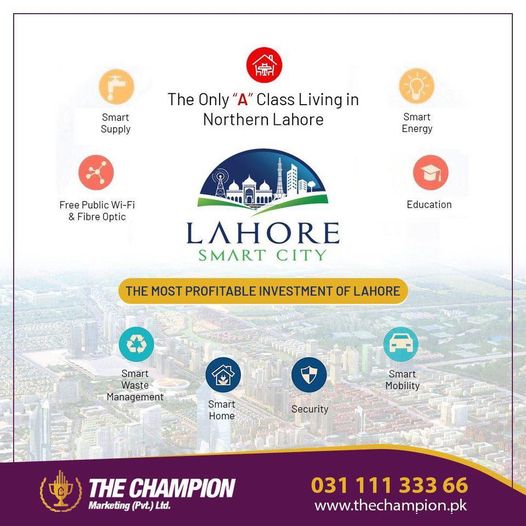 Introduction : Everything you need to Know
Lahore Smart City is one of the awaited projects in the country. It is one of the grand residential projects in the country. Besides, the project is unlike any other. Moreover, it is all set to amaze the nation. Additionally, the Lahore Smart City master plan is the 5th Smart City project all across Asia and ranks 2nd in Pakistan.
The city's housing plan is yet to launch so there is a little period to wait. However, since Lahore is an urban city, it is a hub of cultural and financial activities. You will find a diversity of cultures and people from outside Pakistan as well.
The Lahore Smart City developmental plan is getting a lot of hype. This is because of its unique features and modern development, which will complete in a record time. The developers have strategized the scheme and aim to turn it into an environmentally and socially friendly society.
If you were looking for the Lahore smart city contact, Champion.pk is the right place to begin. We have all the information you need, so keep looking for information below or reach out to us! +92 300 8809438
Developers of "Lahore Smart City"
The Lahore Smart City master plan is an association between two giant developers in the real estate industry – Future Holding Developments and Habib Rafiq (PVT). The two real estate developers are a big name in the industry all over the country. Additionally, they are popular for their big projects, running all over Pakistan. These projects are also getting a lot of media attention because of the highly impressive features it has to offer.
Let us share some details about the real estate companies managing this massive project:
Habib Rafiq (Pvt.) Limited
This is top name in the real estate industry of the country. Real estate developers are widely known for their celebrated construction and engineering projects over the past five decades
Nevertheless, the achievement is due to their hard work, devotion, and responsibility towards the client's needs and work. The unique features of the projects these real estate developers manage include:
Power and Energy
Oil and Gas
Engineering of Water Resources
Buildings
Chemical and Petrochemicals
Roads, Housing, and Infrastructure
Aviation and Airport
Habib Rafiq group is top listed in the market. Thus, this is because; they are solely responsible for high value projects such as Bahria Town and DHA in the country. They are responsible for intricate details, ranging from planning services to infrastructure.
Habib Rafiq is a name characterized by qualities like trust, professionalism, quality, dedication, and honesty. According to associates of HRL, they feel they are lucky to be working with this giant industry.
Future Developments Holdings (Pvt.) Limited
This remarkable name is a giant industry that demands respect. It is undoubtedly among the topmost, asset-management industries that handle some of the biggest real estate development projects in Pakistan. Every project by FHD is worth crediting.
Future Holding Developments (PVT) Limited always provides an impressive and luxurious dwelling experience. It has a great hold on both industrial and residential projects. They ensure that the Lahore Smart City plan connects to the Lahore bypass, Lahore Ring Road, and GT road. This firm has also ensured adding modern infrastructure and planning to profit the residents investing in the project as well.
Future Holding Developments is a licensed and registered company, serving the nation since 1984. It has actively taken part in numerous national and international projects as well.
In general, the Engineering Dimension (PVT) Limited and China Liaoning International Economic and Technical Cooperation Group LTD work under FHDL. You will find these companies listed as top real estate developers and obtain expert-level technical skills very often.
In general, FDHL aims to build top-notch smart cities and housing societies, so people can obtain faith in it. The smart cities project will offer a powerful image, internationally. As a result, it leads forward to international principles of sustainability alongside economic and professional dedication. Smart City projects are built with strategic investments, advanced urban planning, life-cycle assets management, and hi-tech facilities.
Master Plan of "Lahore Smart City"
Lahore Smart City map hints at a model for sustainable development in the country. The concept behind revolves around an inclusive urban management model. Thus, this encourages the efficacy of international standards and control.
Moreover, the Lahore Smart City Map depicts that the plan influences and connects modern technology, enabling the Smart City to function reliably by offering a sustainable solution to its residents. For  example, A consulting agency in Singapore was the first to initiate the Lahore Smart City master plan. Popular names such as Surbana Jurong and Norman Faster are responsible for its design.
Let us know about these a bit:
Surbana Jurong:
Surbana Jurong is a renowned consultancy firm, and its headquarters are in Singapore. However, it is one of the largest firms in Asia. It holds expertise in urban, engineering, and infrastructure development.
Approximately, Sixteen thousand employees work all over their office, including engineers, designers, architects, planners, and other experts. In addition, the company offers prolonged opportunities to businesses and communities as they create homes in cities.
The methodology related to the Lahore Smart City master plan is similar to the master plan of the capital Smart City in Islamabad. The scheme includes a vast range of features and amenities that accommodate all the blocks, comprising the public's residential, commercial, and entertainment aspects.
Additionally, another significant feature of the master plan focuses on enhancing natural facilities in this society. The Lahore Smart City plan also does justice to implementing new or modern infrastructures. This includes a network of public transport that is strategically planned, a Central Boulevard, and a cascade of modernistic buildings.
The idea of this Smart City aims to offer a unique residential society with all the unique features possible. It offers a guarantee that inhabitants will enjoy a lavish lifestyle. This is also one of the reasons this project is attracting a lot of foreign attention and investors.
Other Developers of Lahore Smart City Master Plan
Alongside Surbana Jurong, several brains have also taken an active part in it. The other developers listed below are:
Location of "Lahore Smart City" 
First, the location of this society had to be ideal and one that offers access to other nearby important places in Lahore. Therefore, it is at the Lahore Bypass, which is very close to the Kala Shah Kaku location, visible on Google Maps. This position makes the city, location very close to the Lahore interchange. Secondly, access to it is possible via GT road and from the Lahore-Sialkot motorway. People coming from the Lahore Ring Road can also access the city easily.
The Capital Smart City Lahore is located outside the main city, situated at a distance. The developers of the city took this idea to distance the residents from the hustle-bustle and rush of the city.
Nevertheless, the commercial area of the city is not that far, and close to the Smart City. It is easily reachable after few minutes of drive.
The new campus of the University of Engineering and Technology is located on the west side of the city. This makes it easy to reach through a quick 5-minute drive. Additionally, other housing societies such as DHA Lahore and Allama Iqbal International Airport are within reach as well. It will take under an 18-minute drive to get there.
The head office of Smart City is also nearby, and you can visit them at any time of the day. 
Lahore Smart City houses for sale are up, and you can contact the head office, which is also nearby. Further, you can visit them at any time of the day. For quick Lahore smart city contact, you can get in touch with our Champion.pk representatives. Call Now | 031 111 333 66
Features of "Lahore Smart City"
The Smart City developed with revolutionary features. Additionally, it offers residents a modern and unique space of living. In turn, this makes them enjoy exceptional facilities. The launch of the Smart City will take place with all the smart amenities and advanced-level technology. As a result, the public will have a modern and lavish lifestyle.
The Lahore Smart City features listed below are:
Environmental-friendly surrounding
Clean, sterile, and green space
Metro bus system
Security of advanced-level
Underground plan of electricity
Near to GT road, Motorway, and Lahore ring road.
Gas, electricity, and water availability 24/7
Include sports clubs, hospitals, and shopping malls
Availability of internet alongside includes software for weather, electricity, and traffic.
Addition of overseas block
Modern and lavish housing plan
The infrastructure of world-class development
Include recreational activities
Resort and hotel
Parks, mosques, and lakes
Inclusion of smart programs and applications
Includes world-class hotels alongside top-notch shopping facilities
Availability of sports complexes, night clubs, and community center
Golf-course and club for horse riding
The resort, farmhouses, and restaurants
Proximity to most

essential

areas of Lahore
Lahore Smart City payment plan is affordable and comes in easy installments
Some Specialities of "Lahore Smart City"
Some of the unique features identified in the Lahore Smart City Location are as mentioned below:
Exclusive, technology-driven development plan:
Lahore Smart City uses technology efficiently. It includes technology for housing data and other info required to enhance infrastructure and offer a solution to problems. Besides, it also obtains 24-hour electricity, less costly houses, education and wellness services. Besides, it provides connectivity within the housing scheme.
Job and career prospects:
The developmental scheme plans to ease its tenants by becoming the first business center in the community. It also strives to bring international investors so they can put in into magnificent home jobs. Additionally, it offers diverse commercial and job opportunities in the service industry. Moreover, It can fulfill the financial requirement of the country.
E-Governance:
Several developing agencies have tried to copy Lahore Smart City features but failed miserably, this is because; Smart City is a legalized and approved housing society. Additionally, it includes the people of the government.
The links will help in few areas, such as facilities are cheaper for residents and improve limpidity and accountability. Citizens are likely to be active participants and they will forward feedback on e-groups.
Comfortable and Relaxed Living:
The housing scheme is designed in a way that establishes a sturdy societal environment. For this reason, individuals enjoy a sensual and serene society that might lead to a hub for commercial, recreational, residential probabilities, and openings.
Freedom and Luxurious Life:
Urban freedom comes along augmented ability to the society's public transportation and advanced solutions. For instance, it includes smart parking, an elemental multi-modal transport system, and intelligent traffic management offered in Lahore capital city features.
Livable Neighborhood:
Lahore Smart City master plan includes re-development of poorly planned places such as nearby slums. The authorities plan to take the best shot to earn a peaceful, relaxed neighborhood. As a result, this will make it a new and bigger space and will allow a huge number of people to live in.
Security:
When it comes to Lahore's capital city, you do not have to worry about safety and security. There are video surveillance cameras installed in every nook and corner that keeps an eye on every person. Additionally, it can monitor any criminal action, and authorities take action accordingly. These safety and security measures hold crucial significance to protect senior citizens, women and children. This is one of the main features included in the Lahore Smart City Map makes this project very attractive for foreign Pakistanis planning to invest here. It encourages them to relocate or visit their home country for holidays. Safety is often one of the main concerns.
Sustainability in Housing Development:
Great efforts are underway to build society's electrical energy or producing energy from the waste material. As a result, it will decrease the quantity of waste created by families due to restoration and damaging of buildings. As a result, the Lahore Smart City Developers are motivated to manage water resources effectively.
Infrastructure:
Lahore Smart City master plan has paid keen attention to attain an efficient transport system. The authorities have made sure cyclists, motorcyclists, pedestrians, etc. get a modern transport system. For this reason, the housing society has offered a new state-of-the-art transportation system. It has an infrastructure that ensures greater efficiency.
 "Lahore Smart City" Facilities
 Upon the launch of Smart City, numerous new and unmentioned facilities like the will be available to the residents. However, already visible features of the capital city include:
Extravagant parks
Financial Square
Education facilities
Hospital facilities
Aviation point
Crystal clear lake
Mosques
FDH building
Organization of BRT
Overseas districts
Potential infrastructure
Urban utilities
And much more.
 "Lahore Smart City" Fundamentals
To achieve a lavish and modern lifestyle, the Smart City of Lahore has three fundamentals. These crucial elements, listed below are:
Environment:
The surrounding environment plays a significant part in lifestyle. For this reason, it is crucial to get hold of a society that obtains an eco-friendly atmosphere. The Lahore Smart City obtains a priority conservation of natural resources to make an ultimate living.
The overall surrounding, covered with natural resources make sure peace of mind for its inhabitants.
Housing:
The housing style at Lahore Smart City is of top-notch quality, comfortable and relaxing. In the end, the forecast is that this project will be a society that ends up with a resilient social environment. In turn, it allows the public to live a comfortable and peaceful life alongside enjoying recreational activities. Additionally, the Lahore Smart City makes every effort to guarantee a proper transport system network.
Economy:
The developmental plan of Lahore Smart City offers vast opportunities. The Smart City brings excellent opportunities for its occupants to attract international investors. Thus, this is because they might invest  in the excellent projects.
Additionally, the Smart City project strives to contribute to the economy of the nation. For this reason, it plans to offer several commercial and job opportunities in the service sector in Pakistan. Lahore offers potential resource management that no one will ever face any issue.
 "Lahore Smart City" Districts
The districts of Lahore Smart City master plan listed below are:
General block of Lahore Smart City:
Lahore Smart City Houses for sale are available in the general block. The Lahore Smart City Map identifies the standard block as a residential block. This block includes residential plots available at a low price and affordable for the public. As a middle-class family, you can avail this opportunity and buy an area to build your own home. The general block of Smart City offers all basic and modern amenities to its residents. It includes houses, apartments, mosques, parks, and shops to buy daily products. The Lahore Smart City master plan developers have considered all the possibilities to make life as comfortable as possible.
 Residential  blocks of "Lahore Smart City":
a). Overseas Block of Lahore Smart City:
The overseas block includes residential plots and residential villas. However, this is solely for the public who live outside the country and have dual nationality. Lahore Smart City Map shows that overseas blocks built with all the facilities in mind for people living abroad. It aims to meet international standards for tenants in this block, an alien life experience to help them feel comfortable, safe, and at home. They have all the luxuries they would be accustomed to while living abroad.
It also includes Lahore Smart City Plots for sale, villas, educational institutes, parks, mosques, restaurants, hotels, and shops required to buy daily products.
b). Executive Block Lahore Smart City:
Just like any other block of Lahore Smart City, this block also includes Lahore Smart City Houses for sale, apartments, mosques, playgrounds, retail shops, jogging tracks and Hype Markets, etc. This block's only difference is that it is a little fancier than other blocks and might be more expensive.
Farmhouses:
The Smart City Map offers beautiful serene views. The public can enjoy farmhouses available within a housing scheme.
You can opt for 1 Kanal and 2 Kanal farmhouses for a mini vacation. You can do activities such as farming or playing with your pets, etc.
Additionally, you can arrange to get together, parties, family gatherings or you can just have a relaxing and comforting time with your loved ones.
Health District:
The health district is a crucial district of the housing scheme. The hospital in Lahore Smart City includes 500 beds and offers all the facilities required for health care. Additionally, it will utilize the specialties of doctors and nurses.
However, this district will also offer residential and commercial plots, presenting food places, and retail shops.
Sports District:
Lahore Smart City Map of sports district includes huge grounds and stadiums for various sports and games. Cricket stadium, football ground, badminton court, and a sports complex would likely be available in upcoming days.
Additionally, similar to the health care district, this district will also offer residential plots alongside commercial plots, offering food spaces, cafes, retail markets, and prayer areas.
Silicon Valley:
Silicon Valley features  IT and technical work that is carried out across Smart City Lahore. The offices available in this block are corporate offices, IT offices, software houses, warehouses, operational offices, retail offices, and customer care centers. Besides these offices, the district offers residential plots, commercial plots, prayer areas, and food courts.
Education District:
As the name suggests, this block will be the learning hub of Smart City. Schools, colleges, and universities will be in the block. Additionally, people living nearby can walk down the schools, universities, etc.
Gate Precinct:
The first block after the entrance gate is the Gate Precinct. The Gate Precinct includes services offices of Lahore Smart City. Additionally, 4-star and 3-star hotels are likely to be constructed in this block. Other than this, retail shops, commercial shops, food courts, grocery stores, and prayer areas will also be present.
Financial square:
The financial square gate includes conference halls, banks, offices, hospitality, retail offices and shops, 5-star boutique hotels, exhibition hall, etc. Also, residential plots and shops for daily products are yet to be constructed. However, no news related to the commercial plots has not released yet.
 "Lahore Smart City" Blocks
Lahore Smart City Houses for sale are up in all blocks that are affordably priced. The Smart City includes two blocks, listed as follows are:
Lahore Smart City Overseas Block:
Lahore Smart City overseas block is the second overseas block in the country. It is for overseas Pakistani living in other countries. In addition to this, the developmental plan offers many opportunities for overseas to invest here.
Undoubtedly, the whole heart lies in the overseas block because of its crucial location, features, and facilities. In the upcoming future, the overseas block might top as the number one priority of overseas Pakistanis in very near future
Benefits in investing in "Lahore Smart City" :
The whole Smart City project holds utmost significant benefits Additionally, the overseas block is the highlight of LSC. Besides, the block illustrates recognition and appreciation of the efforts overseas that they give to Pakistan.
It offers an entirely secure and beneficial chance to an overseas resident of the country who has come to invest here. Also, to manage this process continuous, online booking has started and people are already booking their plots.
"Lahore Smart City" Executive Block:
The Lahore Smart City executive block features state of the art facilities. For this reason, it is a great investment opportunity for people living in Lahore and other parts of the country.
"Lahore Smart City" Commercial Block:
As per Lahore Smart City's latest updates, a commercial block of the Smart City is ready for a launch in the upcoming days. The commercial block plot sizes are:
4 Marla commercial plots
5 Marla commercial plots
7 Marla commercial plots
12 Marla commercial plots
However, the commercial block is in its construction process. Because of this reason, the Lahore Smart City Payment Plan for the commercial block is not yet available. Details will be available shortly. 
 How Can You Book Your Desired Plot?
Lahore Smart City Plots for sale are running out fast. If a resident wants to book his desired plot in the Lahore Smart City, Lahore, they will have to apply for it either online or through the city's office. The following documents are necessary for booking a plot in the Capital City.
A copy of your National ID Card
A copy of ID cards of other family members, like father, mother, wife, brother, and sister.
Your passport size photograph 
Your payment amount, either in the form of a Cheque, Cash or Pay order
In the case of an overseas resident, you have to attach a copy of your overseas National ID Card
Unarguably, the features and facilities of the Lahore Smart City housing scheme are attractive. Without any doubt, it is an actual investment. It will benefit the public once they invested. However, before it runs out, you have to go and make a booking as soon as possible.
As per Lahore Smart City's latest updates, the housing scheme has obtained approx. 20,000 Kanals of streamlined property. The housing project is near to Lahore bypass and connects other parts of the city. Unarguably, the residential venture offers your dream house to live in, which include modern features
In the coming years, it will be an ideal housing scheme.
So, what are you waiting for? Look at Lahore Smart City Houses for sale & get your dream house / real estate booked today! Contact thechampion.pk now!
For more Information,Payment Plan & Booking Process, please contact 
031 111 333 66